2020 has been a year of rapid change. To say this change has felt overwhelming at times would be an understatement: PPE shortages, shifting protocols, and the loss of patients and co-workers due to COVID-19 too often have left nurses feeling burnt out, and powerless.
But while it's true that there are many things we can't control right now, you may have more tools for change at your disposal than you realize. The emerging technologies, outlined below, aren't cure-alls or fast fixes—but they can help you to work smarter, lead more effectively, and make informed decisions as you design the nurse-led solutions our health system needs.
The fact is, nurses don't stay powerless for long—when the going gets tough, nurses innovate.
1. Big Data For Better Healthcare
Transforming the future of frontline nursing research
Many nurses think about data science as something that's specialized, or peripheral to their day-to-day work. And yet, across specialties, nurses are uniquely positioned to use big data to tackle the health system challenges they encounter at the frontlines of care.
What is big data? It's typically described as data that are so vast that it "exceeds human comprehension" and the "capabilities of traditional computers" (Brennan and Bakken, 2015). Big data repositories often contain millions or billions of data points which, once organized, can reveal hidden cause-and-effect relationships between people's health habits, treatment plans, outcomes, and more.
These data may be gathered from
Electronic health records
Smartphones
Wearables like smartwatches, and other places
Project NeLL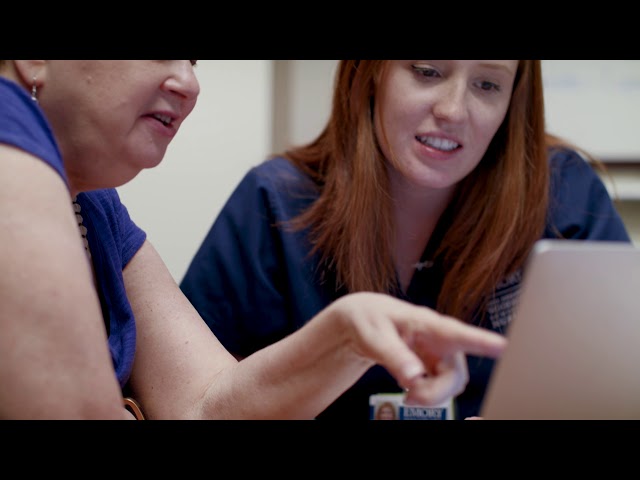 *Nurses' notes feature is coming soon, currently under development.
Nurse leaders of all levels can now access big data using hands-on repositories like Project NeLL, which contains 800+ million de-identified electronic medical records. These data can help to streamline dissertations, grant proposals, and clinical change management projects.
"Project NeLL was designed by nurses for nurses, to address the real, everyday frustrations of nursing research," says Vicki Hertzberg, Ph.D., FASA, PStat, Director of Emory School of Nursing's Center for Data Science. Some of the things NeLL lets you do:
Explore big data
Extract insights
Download data sets directly to your computer
And NeLL's repository is just one part of a hands-on suite of apps for teaching, learning, and practicing nursing data science. "Our aim is to make data science a foundational skill set for nurses across the US," says Hertzberg, "and then watch the ripple effect of healthcare transformation that follows."
NeLL is currently being pilot tested by select nursing schools. To find out about your program becoming a Project NeLL test site, contact [email protected].
2. Predictive Analytics and Artificial Intelligence
Keeping nurses a step ahead
Many people who die by suicide seek medical care ahead of time, often for symptoms that seem, at least on the surface, to be unrelated to mental health. Imagine the impact you could have, as a nurse, if your computer could warn you about your patient ending their life before you sent them home. At the very least, you could start a conversation, let the person know they're not alone, and advocate for the care they need.
That's just one example of how predictive analytics—the ability of artificial intelligence (AI) to study healthcare data in real-time and "predict" what's likely to happen next—is helping to reimagine nursing today. Nurse scientists are working with AI to assess:
System and population-level risks (such as the likelihood of an ER going on diversion during a tropical storm)
And individual-level risks (such as a patient's own, personal odds of recovering from COVID-19 after being on a ventilator)
They're then applying these insights to sidestep poor outcomes—instead of responding to those outcomes after it's too late.
"Many nurses are playing lead roles in developing healthcare predictive analytics," says Tim Cunningham, RN, DrPH, FAAN, Vice President of Practice and Innovation for Emory Healthcare. "Like my colleague Jessica Keim-Malpass at University of Virginia, who's using analytics to predict sepsis in children."
But you don't necessarily need to know how to create advanced technologies like predictive analytics on your own, Cunningham explains. If you have an idea for a process or problem that could be improved upon with new technology—but you're not a computer scientist or engineer—reach out to someone who is and work together.
"We need to look outside of nursing and move beyond the silos of nursing literature," he continues. Just like interdisciplinary clinical teams are improving individual patient care plans, nurse-led teams that bring together business, engineering, and other disciplines can pioneer remarkable change for patient care systems.
3. Worldwide Connections Through Hybrid Models of Learning and Care
Rejecting borders, rejecting boundaries, and connecting us all.
As COVID-19 has shown us, nurses can work—and learn—from anywhere. Smart connected devices, in particular, are pushing the boundaries of what many previously thought possible for nursing. Pocket EKG machines, personal ultrasound wands, and smart contact lenses (that can sense blood sugar spikes for people with diabetes) are just a few examples of the technologies that are making healthcare delivery simple and seamless.
When it comes to nursing education, smart connected classrooms (SCCs) are helping students to rethink their options as well. SCCs make it possible to learn, no matter how far away your professor might be. Advanced classrooms can include features such as:
Interactive whiteboards
Smart connected nursing simulation equipment
Fully immersive VR "caves" that can simulate war zones, disasters, and other nursing field scenarios
Live, multilingual translation of lectures, and more.
The Emory-Ethiopia Ph.D. in Nursing Program is one program that's enabling students in different countries—in this case, Ethiopia and the US—to learn together across distance and time zones. "Hybrid learning is here to stay," says Rebecca Gary, Ph.D., Co-Director of the program. "Necessity has forced many programs to finally make new types of learning user friendly and tailored to people's lives."
That means students who might have counted themselves out of advanced nursing degrees in the past should not count themselves out now, she continues. "When you get that Ph.D. or DNP, it carries your career to another level in terms of what you can accomplish as a nurse. Research puts you in the driver's seat and lets you make changes to patient care from a perspective that's uniquely nursing."
"That's a powerful ability that each nurse possesses," she adds, "even if they haven't discovered it yet."
Nursing news, education and community stories. Nurse.org. (n.d.). Retrieved from https://nurse.org/.